Online invoice software



DEMO
FREE SIGN UP
Over 20,000 small businesses have trusted us to create and send their invoices since 2008!
E-invoices
Follow the trends
Proforma invoices
Make your business flexible
Recurring invoices
save your time
Quotes
Surprise your clients
ONLINE INVOICE SOFTWARE INV24
With Inv24 online invoice software you do not have to think about how the infrastructure is maintained. The only thing you need to focus on is how you will be using our system to grow your business.
Features that make Inv24 the best online invoice software for small business and freelancers: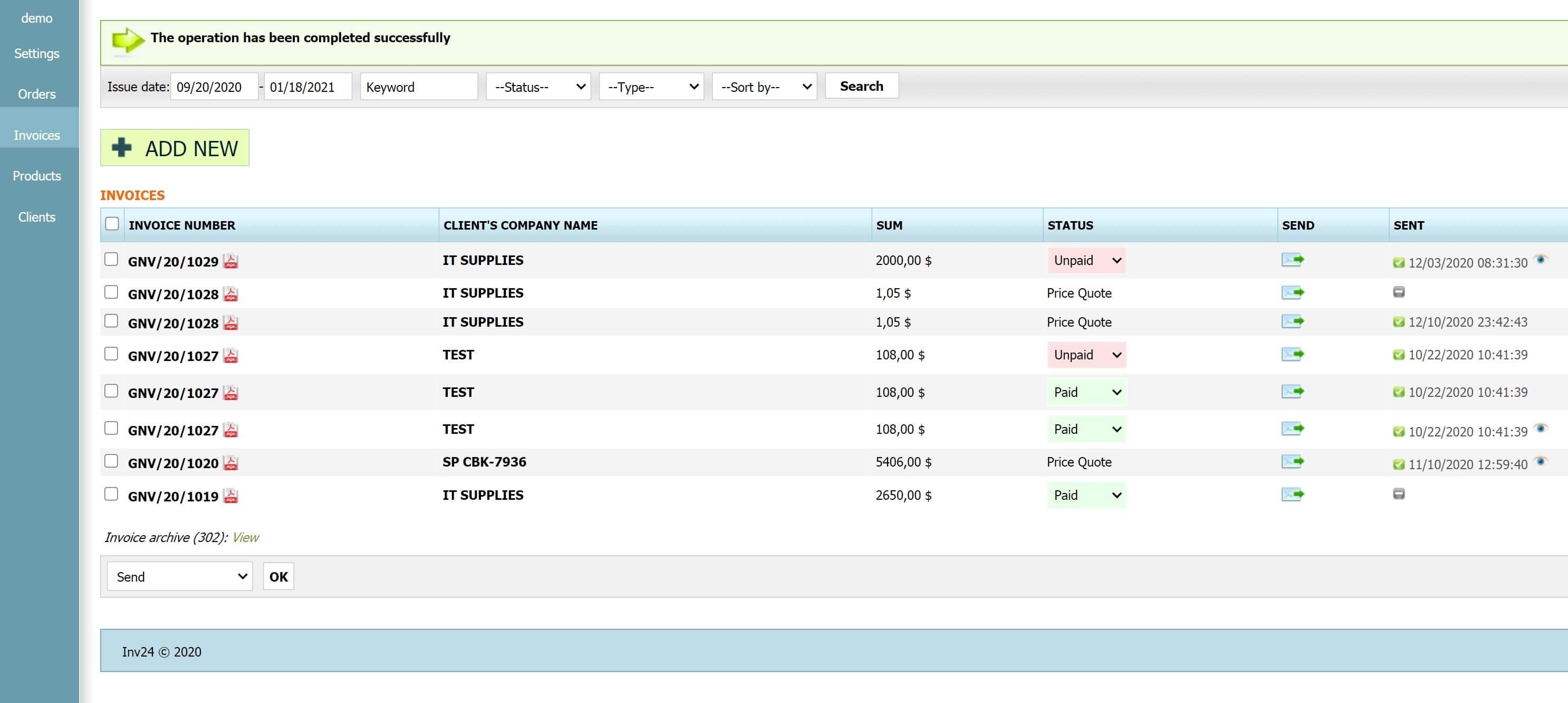 Custom invoice templates: create your own invoice with your company branding design. Inv24 online invoice software will not just help you to accept invoice payments, but also improve your brand awareness.


Simple access from different devices: you can use our online invoice software anywhere and it is easy to switch between desktop and mobile. It does not matter what gadget or operating system (OS) you use, Inv24 works perfectly everywhere. You can easy prepare invoices from office or home.


Automatic invoicing: our online invoice software can independently do payment processing for recurring customers. Your presence and control is not needed, Inv24 can bill your clients autonomously. It saves hours of work monthly when you manage repeating invoices for subscribing customers.


API integrations: you can programmatically manage your account data via Inv24 online invoice software API in real time.
Easy-to-use electronic invoice maker: quickly issue interactive invoices to your customers.
PDF invoices: generate printable web invoices in the most recognizable format on the Internet.
Estimate to invoice simple conversion: convert estimates to invoices in a single click and get paid even faster.
Send invoice to multiple emails: you can send an invoice copy directly to your accountant or business partners.
Exporting and importing: no need of entering invoices manually.
Some other Inv24 online invoice software features:
Sales invoices, proforma invoices and quotations
Invoice reminders
Invoice management system
Duplicate invoice checker
Tax reports
Inv24 is the best online invoice software solution for small businesses and freelancers. We have a 30 days free trial, start to use our services now!