Over 20,000 small businesses have trusted us to create and send their quotes since 2008!
E-invoices
Follow the trends
Proforma invoices
Make your business flexible
Recurring invoices
save your time
Quotes
Surprise your clients
ONLINE QUOTING SOFTWARE INV24
Using SaaS cloud based quoting software as small business owner has many advantages. Inv24 online quote management system saves time, paper and energy. You can also access your quotes and estimates from any of your mobile or internet activated devices anywhere and anytime. Here are some other reasons to use our CPQ (Configure, Price, Quote) software:
Send quotes and estimates to increase your sales
Make fast and error-proof printable quotes using easy-to-use Inv24 billing and quoting software. A quote is usually the first step to landing a client or customer so it needs to be as professionally done as possible. Your sales are more likely to go up if your quotes and estimates clearly outline the details of your services, are grammatically correct and straight to the point.
A simple quote should basically contain service or product details, pricing information, your company details and your email. You can add other information as you see fit but the above are the bedrock of a proper quote.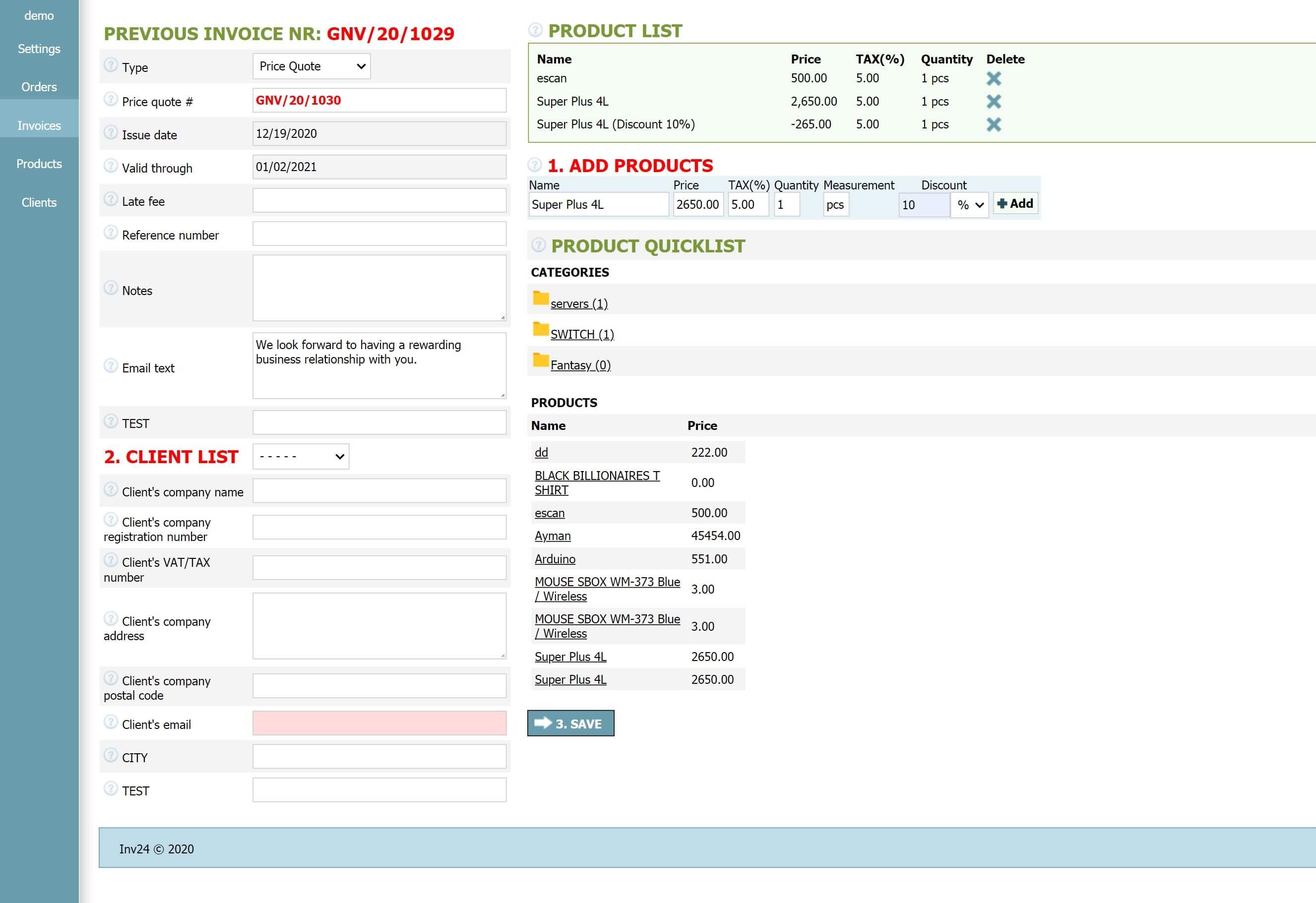 Quote tracking
With Inv24 online quoting software, you can see who opened the quotes sent by email. You could call them back later to ask if they liked it or embed this action into your marketing strategy. You can also send follow up quotes to prospective customers who haven't responded back.
Personalise your price quotes
Get to add your company logo picture and engaging text on the price quotes for your clients. Make your own professional template with all your preferred personalized details as well as branding.
With the Inv24 online quoting software, you can personalize your quote template and easily to add products, pricing and client details to suit your preference and standards. Inv24 lets you create efficient appealing quotes quickly and smartly. Once you're done, sending is as easy as a couple clicks. In addition, there is a smooth transition from quote to order.
Manage your clients, items and quotes
Inv24 online quoting software offers convenient inventory, simple customer database and quotation making tool. What this means is that you can manage, sort and filter your quotes into a system of your preference. You could sort by client's company name, issue date, expiration date or quote number. Filtering and sorting lets you find quotes quickly in case you need to. It also helps when you to write a marketing plan, do an audit or take general stock of your business.
Inv24 online quoting software assists in keeping you aware of how your business is going, how your clients are responding. It does this by providing you quoting as well as invoice data to assess and analyze.
Convert quotes into invoices
Once a client agrees to the quote terms, you can convert it into an invoice with a single click and deliver to your clients. With Inv24 online quoting software the conversion of quotes, estimates and proposals to invoices or cash receipts is seamless and swift. It saves time and also helps facilitate quick payment from the client. It also assists in reducing the amount of documents attached to a client.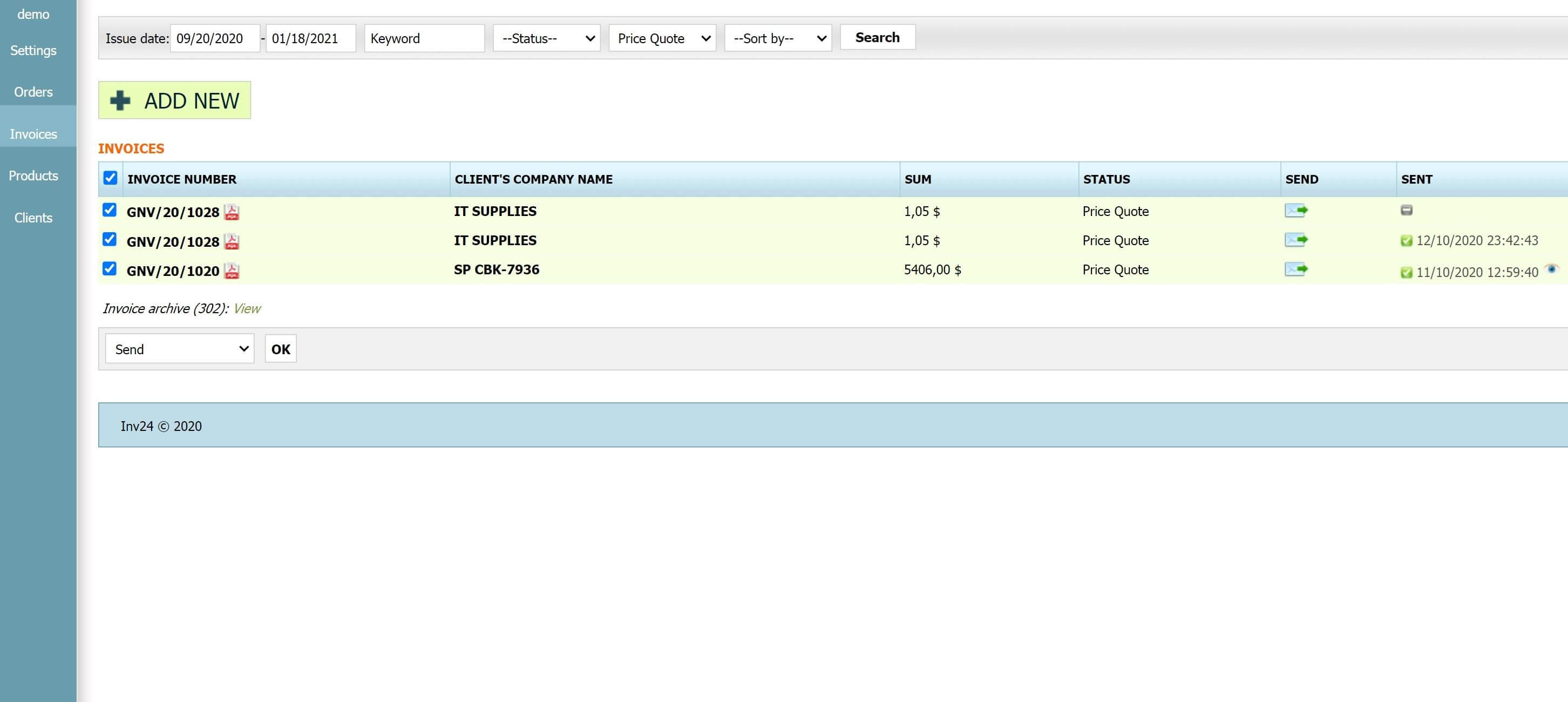 Archive expired quotes
Expired quotes are quotes you no longer have to deal with. Inv24 online quoting software archives these quotes automatically to free up space for pending and current quotes. They will still be available if you need to check them. All you have to do is go to the archive and retrieve the needed quote out.
This archive service has a huge edge over conventional quoting system where you would need to go through heaps of accounting ledgers to find an expired quote.
Export quotation data
You can export the needed quotation data for your marketing purposes in CSV data format. This is helpful for writing financial reports and creating worksheets. With Inv24 online quoting software, this can be done easily and quickly.
The best professional quoting system
How you prepare quotes for your clients is a strong representation of your brand, your professionalism and even your commercial reputation. Use Inv24 online quoting and invoicing software today to get the best of professional services! We offer an absolutely free trial and cheap low cost pricing afterwards. Sign up and experience a whole new way of handling your quotes!
FAQ:
Question: What kind of platform can be used to run Inv24?
Answer (support): You can use our online quoting software on any gadget connected to the Internet via web browser (desktop computers, mobile devices, tablets, TV sets etc). Your ERP applications can also access and manage your data programmatically via our API functions.
Question: What kind of businesses benefit the most by using your quoting software?
Answer (support): Small LLC / NGO / Self-employed businesses providing different services:
electrical, auto repair, painting contractors, plumbing, builders, manufacturing, health insurance, roofing, sheet metal fabrication, 3d design, window and door, tradesman, it etc